Are you struggling with the extreme temperatures in your area which is making the stay almost impossible? Don' worry. Now you have the most convenient solution- buy an air-conditioner. But simply buying the air-conditioner will not do; you must install it properly as well. That is why you need to resort to a professional air-conditioning system service which deals with all kinds of services related to an air-conditioner. We, at Aztec Mechanical, can help. We offer you excellent installation of air-conditioning systems for both commercial as well as residential areas. We have been in this industry catering to several clients for decades now. We have a highly skilled team of professionals along with a host of reliable suppliers which enables us to take care of the installation needs of all our valuable clients. We are known for our custom-crafted and personalized solutions and automation technology which has made us a popular name in and around areas like Albuquerque, New Mexico, NM, Rio Rancho, and Santa Fe.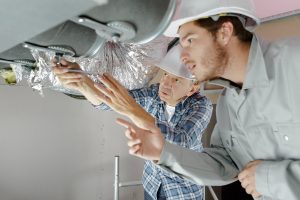 Here we have put together a few reasons why you should always opt for a professional for your AC installation needs. Take a look.
You must know that in order to install an ac, you need to show a certain level of expertise. This expertise can also be showcased by someone who has received the true training and knowledge in this department. That is why you should always opt for a professional to install your ac.
If you try to install the ac yourself, you might make a mistake and damage certain parts or do it completely wrong. In that case, you have to spend a certain amount of money for its repair or for hiring another installation company. This money can be saved if you resort to a professional from the beginning.
So, if you are interested in choosing us for installing your air-conditioner, quickly get in touch with us now.