Aztec Mechanical is a recommended HVAC company serving the areas of Albuquerque, New Mexico, NM, Rio Rancho and Santa Fe. They can commercial and residential HVAC systems. They are design-build specialists and they know how to provide costs effective HVAC commercial solutions. If you need help with a commercial HVAC project, then Aztec Mechanical is your best choice. They engineer and build HVAC systems from the ground up. They also understand the importance of cost and will help keep your project within budget.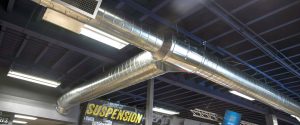 Your HVAC system will work hard to keep you and your workers comfortable. When run a business you don't want problems with your air conditioning. Commercial air conditioning problems impact productivity ad will cost you money in lost production and downtime. Aztec Mechanical provides fast and effective HVAC repairs through New Mexico. Preventative maintenance is an important consideration when it comes to heating and cooling. The expert technicians at Aztec can keep your HVAC system operating at optimum efficiency.
There are tell-tale signs that your HVAC system might not be functioning at peak efficiency. These higher energy bills, not enough cooling, erratic on and off behavior and more noise than usual. The technical team at Aztec will trouble shoot your system, repair faults and fine-tune it so it operates at maximum efficiency.
Aztec can also help you with residential HVAC services. They know the importance of quality equipment as well as professional installation. Many residential HVAC problems are the result of poor installation. Even the best equipment will fail if it is not properly installed. Whether you a new HVAC system or repairs to an existing system, the team at Aztec Mechanical can help you with cost effective residential air conditioning solution in Albuquerque, New Mexico, NM, Rio Rancho or Santa Fe.