With the constant rise in temperatures around the world, air conditioning services are a must today. The advancement in technology has also brought forth innumerable models of HVAC systems that not only cool and purify the air around you, but also take care of the environment simultaneously to reduce pollution. Every consumer has the chance to choose for themselves an air condition system that suits their preferences and budget. However, when it comes to air conditioning installation, you must take on the help of a professional. We live in a society that is full of DIY tutorials but while ingenuity is commendable, an air conditioning system is definitely not eligible for such an attempt. Many consumers may not know this but proper installation forms a key component to maintaining the performance of the unit for a long time. Of course, an air conditioner is an investment that we make for our present as well as the future, and hence, to make sure that it lasts for a long time, you must opt for professionals. We at Aztec Mechanical can assist you in this endeavor. Our technicians are all skilled professionals who have worked with the biggest brands in the country for years. If you are in need of an efficient and timely installation of air conditioners in areas like Albuquerque, New Mexico, NM, Rio Rancho, Santa Fe, etc. then we can be the perfect choice for you.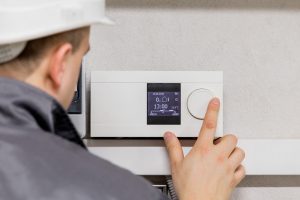 Here's why you should only depend on the services of a professional for proper AC installation:
Accurate Spacing:
Once you take on the help of professionals, you can automatically make sure that you have the perfect make and model for your desired area or space. While you might be aware that experts have the ability to mount the systems without any hassle, they also make sure that you purchase a unit that is proportionate to the given space. If you want to avoid energy wastage and problems like short-cycling which result from inaccurate spacing, then you will be better off with the services of an expert.
Warranty Protected:
Before you get down to installing the machine on your own, ask yourself if you are absolutely sure about the process. Since you are not licensed for such work, any damage caused to the system during installation will not be covered by the company. On the other hand, the work done by a professional is not only flawless but only protected by warranty.
Hurry up and contact us today if you wish to know more about AC installations!