Is the heat outside getting too much for you? Maybe getting an air conditioner would be a good option for you. Aztec Mechanical is here with our AC installation service. Founded in1977, Aztec Mechanical has been providing customers with all types of mechanical systems, of varied designs, built, and features. We even provide custom made, personalized solutions. Whether it is a commercial facility like retails or industry facilities like manufacturing plants, or even residential houses, we have a unit for each type of facility. We can boast of being affiliated to some of the biggest suppliers like Trane, Carrier, and even Goodman. This not only helps in impeccable installations but also comes with full warranties.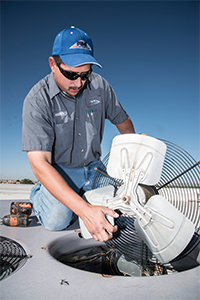 Below we have mentioned 3 reasons why you should hire a professional to install your AC unit. Take a look.
Saves money
You should always select a professional to deal with your system, as you are unaware of the total cost of a repair service. There might be unexpected hidden costs and fees that you might not know of. Also, hiring someone else saves you the trouble of purchasing the tools needed for any particular service.
2. Experience and knowledge
While e professional will bring his knowledge and expertise with him, you on the other hand are quite inexperienced when it comes to the understanding of the intricacy of your unit. Since most of the components are inter-connected, it requires a professionally adept hand who can deal with it with great caution.
3. Insurance
Another major reason to hire a professional is they bring insurance along with them. If anything ever goes wrong, the company will be liable to take care of it because of the insurance cover provided to you by them.
So, if you are from the regions of Albuquerque, Rio Rancho, Santa Fe, NM, New Mexico, and you want to install a new AC, you can contact us.