The Leading Resource for Air Conditioning in Albuquerque, Rio Rancho, and Santa Fe, NM
Aztec Mechanical stands alone as the premier resource for air conditioning in Santa Fe, Albuquerque, and Rio Rancho, New Mexico. There are a number of qualities that set us apart from the competition, and one of them is our level of experience. We started out all the way back in 1977, and our capabilities have been expanding ever since then.
Our team is comprised of highly skilled, experienced air conditioning professionals that are very passionate about the work that they do, and this is another great strength. Thirdly, we place an emphasis on world class customer service from the first point of contact onward. If you would like to see what many of our Santa Fe-Albuquerque-Rio Rancho air conditioning service customers think about us, take a moment to check out the testimonials page on this website.
Commercial Air Conditioning Installations
We have the ability to handle commercial air conditioning installation projects of any size or scope. Our talented HVAC design-build team can gain an understanding of your business and the nature of your facility and put their skills to work for you. If you are a decision-maker for a medical facility, a manufacturing site, a scientific installation, or any other type of commercial structure, we can satisfy your needs and exceed your expectations on every level.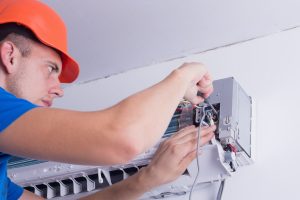 Air Conditioning Repairs and Maintenance
You can definitely rely on us if you need an air conditioning installation in Albuquerque, Rio Rancho, or Santa Fe, NM. At the same time, we are also air conditioning repair experts, and we have the ability to work on all different makes and models. Our technicians are very well equipped with parts, so if your air conditioner can be fixed, we can almost always get the job done on the first visit.
Air conditioning maintenance can keep your system in good working order so that a minimal amount of energy is being utilized. Plus, regular maintenance can nip little problems in the bud before they become big ones.
Call or Click Today!
If you would like to speak with us about a commercial or residential air conditioning installation, maintenance contract, or air conditioning repair in Albuquerque, Rio Rancho, or Albuquerque, NM, we would be more than glad to help. We can be reached by phone at 505-884-2770, and there is a contact page on this website that you can use if you would prefer to send us a message.