If your current HVAC system dates to the previous century, it's probably not performing as efficiently as it should. Given that almost half of most electric bills are devoted to heating and cooling costs, it makes sense to ensure that your HVAC system is up to the task. Before making an investment in a new HVAC system, consider the following five factors.
Inspect Your Present HVAC System
During an inspection, a professional HVAC technician can detect areas that need repair in your existing HVAC equipment or even replacement. The tech can also make recommendations for a new system and provide a written estimate for equipment and installation.
Determine Whether Air Vents and Ductwork Are Adequate
As part of an inspection, a professional technician can determine whether your HVAC system's present vents and ductwork are adequate to support a new HVAC system. If they are too small, your new HVAC unit could experience pressure problems and wasted energy – which translates into higher electricity bills, or even damage to the new unit.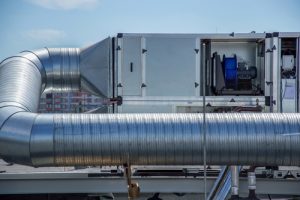 Determine the Proper Size for the New HVAC Unit
Oversized HVAC equipment is not good; it will short cycle and result in unnecessary wear and tear, and even premature equipment failure. Undersized equipment will result in an uncomfortable space and high electric bills. The best design is to properly size the HVAC equipment to the actual heating and cooling load resulting in lowest operating cost and longest life expectancy. Your design/build HVAC contractor can do just that.
You should also consider whether you want a split or packaged air conditioner system. Split units have exterior and interior components, while packaged units are installed completely outdoors. If you are installing separate air conditioning and heating units, ensure that they are compatible with one another. Sticking to one manufacturer is one way to accomplish this.
Choose Filters and Thermostats
Permanent filters are somewhat more environmentally friendly but must be cleaned regularly. Programmable thermostats make it easier to maintain comfortable indoor temperatures. The initial investment is greater with a programmable thermostat, but the cost is made up quickly through monthly energy bill savings.
Consider Maintenance Costs
Determine whether the price of your new air conditioning unit includes maintenance and a warranty. If not, consider purchasing this service along with your new unit. It's less costly and makes sense to obtain maintenance from the factory-trained installing contractor.
Choosing the right HVAC system now – and insuring that it is properly installed, will ensure that your home or workplace remains comfortable year round. In addition, you'll avoid expensive repairs in the future.
If you have questions about your HVAC installation,
Give Us a Call Today!